Uda Pussellawa Tea Region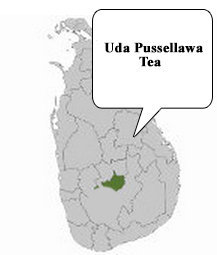 The Uda Pussellawa tea region of Sri Lanka sits between 5000 and 6000 feet above sea level.
Uda Pussellawa is a small, less occupied area in the central province. The district entirely covers in tea cultivation.
This area tea estates enjoy two 'quality seasons', the western as well as the eastern.
The teas from the upper part of the district, bordering Nuwara Eliya (which lies immediately to the west), enjoys the seasons.
Elevations in Uda Pussellawa are somewhat lower than the Nuwara Eliya, ranging from 5,000-6,000ft.
The tea of Uda Pussellawa appears darker in the cup, with a pinkish hue and a hint of greater strength.
Western and Eastern season tea
The eastern quality season from June to September produces the best teas of the year. So, It is a peak period, closely followed by the western season during the first quarter.
The dry, cold conditions during this latter period add a hint of rose medium body and subtle character.
Periods of heavy rainfall, on the other hand, tend to produce a tea that is darker in the cup and stronger-flavor.
Uda Pussellawa produces a variety of leaf sizes and styles.