Dimbula Tea Region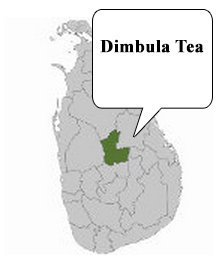 The Dimbula tea region of Sri Lanka sits between 3500 and 5000 feet above sea level.
Dimbula tea area is internationally recognized for the quality of its teas in the N/Western season, when they exhibit very clean bright & brisk teas, with a good coppery red color & in the case of the Golden valley area a hint of a golden – Orange hue in tea.
The districts contain a number of sub-districts such as the Golden Valley, Maskeliya, upper Kotmale, Ramboda & lower Dickoya.
Up to the 1970's Dimbula & Dickoya were considered two separate districts so we consider them to be separate for our purposes as the character of the teas is slightly different with Dickoya generally having a slightly lighter liquor.
During the western quality season between March and May, the aromatic qualities of Dimbula tea increase, and notes of jasmine mixed with cypress can be detected.
The monsoon rain and the cold dry weather produce a range of teas, around Dimbula area from full bodied to light and delicate.
Unique liquor of Dimbula tea produces good quality English Breakfast tea and Irish Breakfast tea.