Sabaragamuwa Tea Region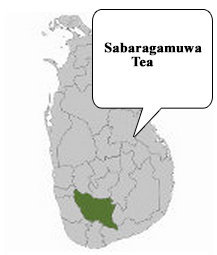 Discover the Unique Teas of Sabaragamuwa, Sri Lanka.
Sabaragamuwa, located in the central and southwestern mountains of Sri Lanka, is one of the largest tea-growing regions in the country. The tea estates in this region, also known as Ruhuna, are mostly low-grown and range in elevation from sea level to around 2,500 feet.
The environment in Sabaragamuwa is diverse, with rainforests, cloud forests, and high grassy plains. Some of the highest estates are situated just below the boundaries of the Sinharaja and Peak Wilderness nature reserves, receiving the highest rainfall of any plantation district.
The teas produced in Sabaragamuwa have a unique character, distinct from those grown at lower elevations. Some estates also receive weather from the nearby Uva climatic system, leading to further diversity in their tea production.
The tea bushes in Sabaragamuwa are fast-growing with long leaves, ideal for rolling during the manufacturing process. The resulting liquor is dark yellow-brown with a reddish tint in the dry season, lightening somewhat with altitude. However, the aroma is noticeably different from that of Ruhuna tea, with a hint of sweet caramel and a less strong scent.
Sabaragamuwa tea has a strongly marked flavor, especially for low-grown examples. Keep in mind that these are general comments, and the district contains several sub-districts. Therefore, each area produces its own unique tea production.
Discover the unique teas of Sabaragamuwa from Hellens and experience the diverse flavors of Sri Lankan tea.