Ruhuna Tea Region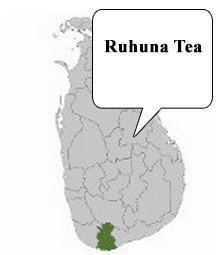 The Ruhuna tea region of Sri Lanka sits between sea level and 2000 feet.
Ruhuna tea defines as 'low-grown'. and  The districts contain a number of sub-districts such as the Ratnapura/Balangoda, Deniyaya, Matara, Galle.
Ruhuna tea area was a latecomer to tea. In 1900, the first estates opened up among the foothills of the central mountain massif, at a convenient distance from Galle and Matara with their road and rail connexion to the capital. 
The tea-estates of the region all lie at altitudes between sea level and 2,000 feet. Although the main tea-growing areas are relatively near the coast, the predominant weather patterns prevent them from receiving the full force of the southwest monsoon winds and the rain they bring.
Before introducing the tea, this zone of moderate climate, watered by several small rivers.
This area devoted to the cultivation of spices.
The soil of Ruhuna combines with the low elevation of the estates, causes the tea-bush to grow rapidly.
It produces a long, beautiful leaf that turns intensely black on withering and particularly suits to 'rolling'.
Ruhuna factories produce a wide variety of leaf styles and sizes, from prized 'tips' through whole- and semi-whole-leaf teas to 'fannings' and CTC.