Ruhuna Tea Region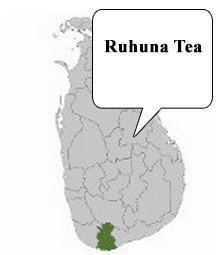 The Ruhuna tea region of Sri Lanka sits between the sea level and 2000 feet.
Several sub-districts, including Ratnapura/Balangoda, Deniyaya, Matara, and Galle, grow Ruhuna tea, also known as 'low-grown' tea.
The Ceylon tea industry established the first estates in 1900, which were located in the foothills of the central mountain massif, near Galle and Matara, making a latecomer in comparison to other tea-growing regions.
Tea estates are at altitudes ranging from sea level to 2,000 feet.
Although these areas are relatively close to the coast, the prevailing weather patterns limit the impact of the southwest monsoon winds and rainfall.
Several small rivers irrigated the region, which had a moderate climate before tea cultivation. In addition, Ruhuna is popular for the cultivation of spices.
The combination of low elevation and soil conditions in Ruhuna promotes rapid growth of tea bushes, producing long, beautiful leaves that turn intensely black during withering and are ideal for 'rolling'.
Ruhuna factories produce a wide variety of leaf styles and sizes, ranging from prized 'tips' to whole- and semi-whole-leaf teas, as well as 'fannings' and CTC.
This growing area is also known for its high-quality Silver Needle white tea. Get the best quality tea from Hellens Tea and treat yourself to a premium tea experience.