Nuwara Eliya Tea Region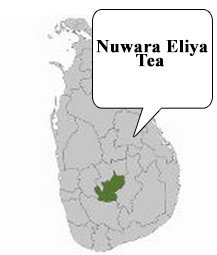 The Nuwara Eliya tea region sits 6000 feet above sea level.
Discover the world-famous upcountry tea-growing district of Sri Lanka – Upcountry. Known for its rugged mountainous terrain, it boasts the highest average elevation in the country. With an average annual temperature range of 11-20 C°, the recorded lowest temperature is 0.4 C° and the highest is 27.7 C°. The area experiences monthly rainfall between 70-225 mm and an average annual precipitation of 1900 mm. The maximum rainfall is in October, while March sees the minimum. Upcountry tea has two quality seasons, the eastern and the western.
Thanks to its high altitude and year-round low temperatures, the tea bushes here grow very slowly, resulting in unusually small leaves that take on an orange hue after withering. The infused leaf acquires a greenish-yellow tone, giving the palest infusion among all regional varieties of Ceylon Tea, with a delicate fragrance.
Nuwara Eliya produces a variety of tea grades, with whole-leaf orange pekoe (OP) being the most sought-after. Broken orange pekoe (BOP), although less costly, is also popular. Generally, the smaller the leaf particle size, the stronger and less subtle the tea. Treat yourself to the best quality Upcountry tea from Hellens Tea.