Nuwara Eliya Tea Region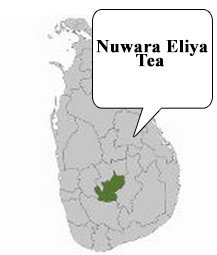 The Nuwara Eliya tea region of Sri Lanka sits above 6000 feet above sea level.
This is famous upcountry Sri Lanka's tea-growing districts.
Nuwara Eliya is also the most rugged and mountainous area, with the highest average elevation.
The average annual temperature varies between 11-20 C° and the recorded lowest temperature is 0.4 C° and the recorded highest temperature is 27.7 C°.
Monthly rainfall varies between 70-225 mm and has an average annual rainfall figure or precipitation of 1900 mm. The maximum rainfall is generally in October and the minimum rainfall is in March. During the year it has a relative humidity between 65%-87%.
Nuwara Eliya tea enjoys two 'quality seasons', the eastern as well as the western. 
High altitude and year-round low temperatures produce a very slow-growing bush with unusually small leaves that take on an orange hue – just a hint against the blackness – after withering.
The infused leaf acquires a greenish-yellow tone, and the infusion in the cup is the palest among all the regional varieties of Ceylon Tea, with a subtle golden hue and a delicate yet fragrant bouquet.
As with all Ceylon Tea, Nuwara Eliya is available in several different grades. Excluding certain exotic varieties, the most sought-after is whole-leaf orange pekoe (OP); slightly less costly, though still expensive, is broken orange pekoe (BOP). Generally speaking, the smaller the leaf particle size, the stronger and less subtle the tea.